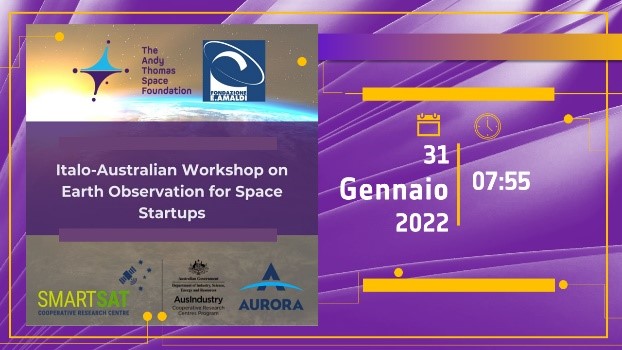 On Monday 31th January 2022 Fondazione E. Amaldi in collaboration with The Andy Thomas Space Foundation and supported by SmartSat CRC & Aurora organized the "Italo-Australian Workshop on Earth Observation for Space Startups". The event explored the opportunities that Earth Observation sector is able to offer to the entrepreneurial ecosystem, and was also an opportunity to give space to ideas and discuss use cases for water, hydrogeological and fire monitoring.
The workshop started with opening remarks from: Maria Cristina Falvella – President of the Fondazione E. Amaldi; Michael Davis – President of The Andy Thomas Space Foundation; Fabrizio Battazza – Head of Relations with ESA Italian Space Agency; Enrico Palermo – President of the Australian Space Agency; Nicola Sasanelli – CEO of The Andy Thomas Space Foundation. During the second part of the workshop, an expert panel entitled "Applied research experience" followed: Andy Koronios – CEO at SmartSat Cooperative Research Centre; Andrea Taramelli of the Institute for Environmental Protection and Research; Giorgio Licciardi and Patrizia Sacco of the Italian Space Agency. The third session was introduced by Tim Parsons, Chair at Aurora Space Startup Cluster and presented some of the Italian and Australian companies already operating in the Earth Observation sector offering innovative services: AICraft, Spiral Blue, Arlula, CosmicWaterLeaks, Latitudo 40, Lux Aerobot, Meeo, Planetek, Regrow AG, Nhazca.
The final greetings and conclusions were held by Lorenzo Scatena – Secretary General of the Fondazione E. Amaldi and national Ambassador of the European Space Agency ESA Business Applications and InCubed+ programs.
The event was held in English.